Singapore G20/OECD Task Force on Institutional Investors and Long-Term Investment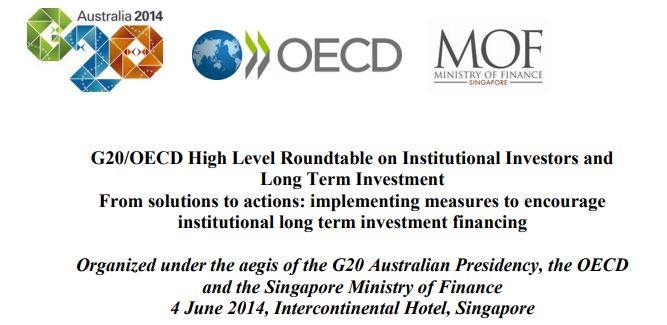 Co-organised by the G20 Australian Presidency and the OECD, and hosted by Singapore Ministry of Finance, this Roundtable on 4 June 2014 brought together government officials and business leaders to discuss steps to boost infrastructure investment, one of the key priorities of the G20 agenda.
Discussions focused on how policy makers and investors can facilitate private sector infrastructure financing, as well as issues related to governance for institutional investors and the accounting treatment for long-term investment. Members of the G20/OECD Task Force on Long Term Investment and G20 Investment & Infrastructure Working Group joined this event as observers.
The OECD-led Task Force on Institutional Investors and Long-Term Financing, is open to G20, FSB, APEC members and relevant international organisations, and works on developing high-level principles intended to help governments facilitate and promote long-term investment by institutional investors, particularly among institutions such as pension funds, insurers and sovereign wealth funds, that typically have long duration liabilities and consequently can consider investments over a long period.
The Singapore G20/OECD Task Force members met to endorse these principles and further develop High-level principles principles on Long-Term Investment Financing by Institutional Investors for consideration at the previous G20 Summits.